Welcome to the Naruto Forums: The first and best Hollie forum!. If this is your first visit, be sure to check out the FAQ by clicking the link above. You may have to register before you can post: click the register link above to proceed. To start viewing messages, select the forum that you want to visit from the selection below.
John Cena sold his soul to the devil
Since the John Cena=satanist thread on wrestlingforum.com was wiped by the illuminati I have created this blog to spread truth and awareness of his evil ways.
John Cena heralded the PG(Pedophile Galaxy) era specifically to target children to brainwash them into taking steroids and used subliminal messages to fool you into liking him and do accept certain evil things(such as steroids and revenge) as good. John Cena is a dick, acts smug, calls people whores and does evil things and takes revenge and yet is portrayed as a baby(reaping) face.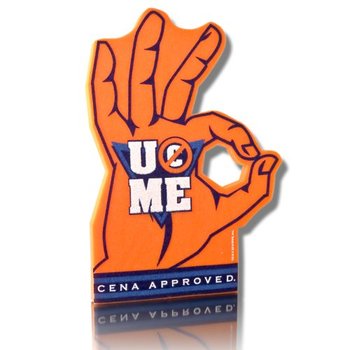 John Cena giving teh 666 sign and basically conforming himself as the Anti-Christ!!!
Past of John Cena:
Black Cena
Before his rise to stardom John Cena used to be a black rapper and the reason you dont know he used to be black is cause all previous videos and pictures have been photoshopped into white guy. This black personality of Cena resurfaced a while back in a new form called Darren Young seeking revenge but Cena defeated his black(but ironically light)side and banished him from WWE forever.
John Cena making a deal with Satan
Realizing that he sucks at both wrestling and mic skillz and that trips hates blacks when he berried Booker T John Cena made a deal with satan(The Undertaker) and tries to sell his soul to him in exchange for the gold and a brand new white skin pack. Taker accepts and the rest is history. A fact that Cena rarely if ever bothers Undertaker because he is masta which further brings into light the Cena sold his soul to taker theory.
John Cena performing a blood ritual live to please satan and to keep the gold
John Cenas true satanic theme which can be heard after playing his current theme backwards and with inserting saw dust in your ears. It was used by Undertaker before further making their connection obvious.
But why did Undertaker accept Cena's offer when he would get nothing from Cenas steroid stained soul and mediocre rapper skills? This is the reason why!
Chris Benoit and Dainel Bryan side to side(Note teh similarities)
Yes Benoit still lives and is the beast of revelations! He was never killed he merely took a new goat like form called Daniel Bryan.
Yeslock=Crossface
He even uses his old crossface not so cleverly called No lock now which would fool everyone but those who seek teh truth will find out that he is teh beast cause the truth always finds a way to reveal itself!
WM XXX:
On this day the world shall end when John Cena battles Undertaker and ends the streak releasing extreme amounts of satanic energies accumulated in Takers two decade long career and then Cena would be fooled thinking he finally beat his master but Undertaker would do his sit up and lift Cena from his neck and rip his heart out and feed it to Byran who would reveal his true form as Benoit and proceed to do a meteoric flying headbutt, ending the world!
Comments
8
Comments
Posted 02-04-2014 at 06:21 PM by

Itachі
Posted 01-20-2015 at 03:09 AM by

Disorder
Trackbacks
Recent Blog Entries by babaGAReeb
All times are GMT -4. The time now is
02:33 PM
.